About our company
LAKTOS is a traditional European dairy business and manufacturing company with the continuous brand tradition in dairy business since 1936. We specialize in the production, trade and distribution of dairy products and commodities. As a joint stock company in private ownership in Czech Republic, we sustain to put our name and reputation in place to guarantee the best quality and always walk the extra mile to make our customers satisfied.
Laktos is member of European dairy association EUCOLAIT.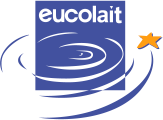 Besides dairy products market, LAKTOS also ranks among the important sellers of livestock feed on the Central European agriculture market, supplying over 100 farms. Our company is the owner of the LAKTOSAN brand, formerly a unique brand of dairy substitutes for calves on the Czech market. This dairy substitue is currently supplied to us by the Dutch company Schils. In the area of mineral feed and salt licks, we cooperate with the Austrian company LIKRA.